Local Musicians Take on Europe In Latest Tour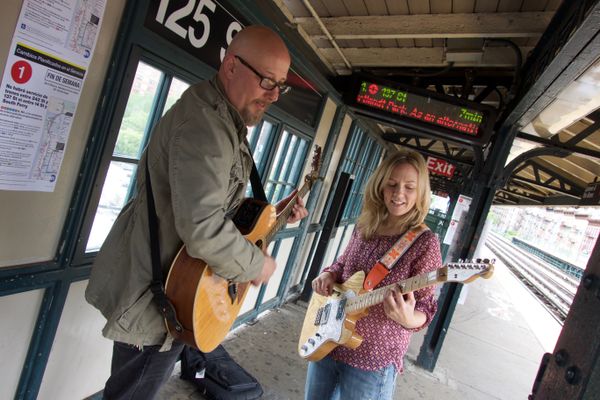 The Lower Hudson Valley is losing two of its most talented musicians to Europe this summer as Julie Corbalis and Bryan Gordon head out on a two week tour of Belgium and Denmark.
"I'm thrilled to be heading back to Belgium and Denmark and excited to be on the road with Bryan Gordon," Ms. Corbalis said. "I can't wait to get out there to see friends and to share my new record."
This tour, Ms. Corbalis' fourth European trek, is in support of her sixth studio album, "What's Up With This Heart?" She has made similar trips in 2005, 2006 and 2008.
Mr. Gordon, who toured Germany back in 2000, will be premiering new music on the tour in addition to playing originals off his first solo studio album, "Heroes, Fools and Saints." 
"I'm really looking forward to the experience of traveling place to place," Mr. Gordon said. "I'm excited to be going out to new places, traveling around with somebody and playing new spots."
In addition to their own originals, the two also plan on doing a series of duets from artists like Emmy Lou Harris and Gram Parsons, Wilco and Feist, Tom Petty and Stevie Nicks. 
Ms. Corbalis is a working singer-songwriter who has been entertaining crowds in the Lower Hudson Valley and greater New York City area for over 15 years. Her latest album takes those of us who have been following the journey from the beginning to the next step; from youthful optimism through heartbreak and confusion and finally to acceptance that blue skies don't always mean happy days and that's okay too.  "When we were younger, it was so damn easy," Ms. Corbalis sings. Yes, but perhaps now, her latest songs offer, we can find something better. Maybe, after all, it's time we changed our plans.
Recently, her cover of The Faces "Oh La La" from her 2013 CD "Songs in a Bottle," soundtracked a piviotal moment on the hit Fox series, "Bones."
Mr. Gordon is also an accomplished singer-songwriter who has been writing and performing up and down the East Coast for over 30 years.  His workingman's blues style and compelling lyrics could rightly encourage comparisons to both Bruce Springsteen and Leonard Cohen. 
Although the two have been friends for years, sharing songs and singing harmonies for each other on CDs and supporting each other at gigs, the two have yet to really collaborate with each other. Mr. Gordon hopes that this tour will fix that.
"We're going to have a lot of time playing together. Even though we're friends and we sit in on each other's gigs, we don't really have a lot of time to sit and play together," Mr. Gordon said. "I think that, once we're actually over there, when we're not actually playing gigs, we're going to have a lot of time to just sit and play together."
He continues, "I think we're going to come back working better together."
The two-country, six-city tour will kick off August 13th in St Eloois Winkel, Belgium.
Tour Dates: 
Aug 13 Keuvelkroeg Arbeidershuis St. Eloois Winkel, Belgium
Aug 14 T Onbeschreven Blad Gits, Belgium
Aug 19 Finn Inn Trastrup, Denmark
Aug 20 The Scottish Pub Copenhagen, Denmark
Aug 21 Classic Pub Glostrup, Denmark