JULIE CORBALIS is a New York-based singer-songwriter who has been performing her own music as well as classic covers since 1996. Corbalis has recorded six albums to date: two with her band Jules & The Family (Jules & The Family, 2005; Border Radio, 2007), 3 as a solo performer ("Old Flames And New Names," 2008; "Songs In A Bottle," 2013, and the 2016 release "What's Up With This Heart?") and one as a collaborative effort with other local musicians (Backwoods Jupiter Presents Bob Dylan's Desire, 2011).
_________________________________________________________________________________________________
"Her wide range of musical fascinations, so well expressed in her choice of songs to cover, is also amply displayed in the breadth of interest and diversity of approach that characterize her songwriting."
– Patrick Walsh, Media Intercept Blog, NYC
_________________________________________________________________________________________________
When Corbalis isn't out performing original music and classic covers, the Port Chester resident teaches middle school social studies.
Corbalis enjoys steady exposure in local media radio outlets, including WFUV 90.7, WHUD 100.7 and The Peak 107.1 as well as continuous music sales through iTunes, Spotify, CD Baby, and performance events. Julie's cover of The Faces "Ooh La La" was featured on the hit TV show "Bones" in June 2016. She has also been a featured performer at The Bitter End (New York, NY), Brooklyn Bowl (Brooklyn, NY), Pete Seeger's Clearwater Festival (Croton-On-Hudson, NY), The Towne Crier (Pawling, NY), the Pleasantville Music Festival (Pleasantville, NY), Some Kind of Jam 9 & 10 as well as Madsummer Meltdown Camping and Music Festivals in Schuylkill Haven, PA.
Summer 2016 was especially busy. Jules and longtime friend and collaborator Bryan Gordon embarked on a 5 city music tour in Belgium, The Netherlands and Denmark. 
Corbalis' musical influences are as diverse as her musical catalog. They include the Beatles, Sheryl Crow, and a sub-genre to what she whimsically refers as "White Boy Blues" including the likes of Eric Clapton, The Animals, and the Rolling Stones.
Not only has Corbalis had the opportunity to open for a number of well-established musical acts such as Colin Hay (Men at Work), Amy Correia, Mickey Hart, Jeffrey Gaines, Gandalf Murphy and the Slambovian Circus of Dreams, Sarah Lee Guthrie and Johnny Irion, but she has among her credits been a featured performer on studio recordings and live performances for the following music artists: Pat Kelly, Fred Gillen, Jr., Scott Urgola, Bryan Gordon, Curtis Becraft, Hope Machine.
_________________________________________________________________________________________________
"Julie Corbalis is a fine singer-songwriter whose lyrics betray a gentle, tender sensitivity, while her delivery reveals brass balls, if you will." 
– Elliott Glick, Starving Artist Cafe and Gallery, NYC
_________________________________________________________________________________________________
Prior to launching her solo career, Corbalis fronted the indie pop-rock band "Jules & The Family." The group released two successful independently produced albums that have enjoyed airplay not only in the United States, but also in Mexico, Europe and Japan.
Presently, Corbalis continues to perform regularly either as a soloist or with other music artists throughout the greater New York area and points beyond. Says Julie about her creative songwriting process and the "effect" her songs might have on her listeners, "I usually write because I'm working out something in my head that, for any number of reasons, I can't talk about with other people.  I mean, I could talk about it, but I'm too self-conscious.  So I sing about it instead.  I guess I hope if someone is struggling with something and they hear something of mine that is comforting or familiar, they can be reminded they are not alone."
 Written by Jorge Caraballo (c)2014
 My name is Julie Corbalis.  For the last 10 years, family, friends, and lovers have made their ways into my song lyrics.  Like flowers, some of our relationships were cultivated and coaxed toward sunlight with thoughtful encouragement and practical decisions.  Others managed to flourish keeping hydrated with a little beer and light from the bulbs on the Triboro Bridge.  Both are the stars of my songs; the reasons I write.
For my most recent musical project, I decided to highlight 2 important aspects of my personal musical journey: the folks I play music with - Hudson Valley's finest working musicians, and an artist who paved the way for musicians like us: Bob Dylan.  The finished product is a collaboration entitled "Backwoods Jupiter Presents Bob Dylan's Desire."  In short: a dozen of us got together over 3 sessions and recorded our own version of Dylan's classic 1976 album, Desire.  Check it out here.   

In 2008 I released an original CD entitled "Old Flames & New Names."  It is a ten track set of soulful, acoustic rock.  While all 3 of my CD's enjoy steady sales through itunes, CD Baby, and gigs, "Old Flames" has recently been featured in NY newspapers and the tracks "Johnny & June" and "Broadway" were played on the NYC radio stations WHUD (100.7), THE PEAK (107.1), and college radio.  My website, www.juliecorbalis.com, averages 23,000 hits a month.  I have been featured in 3 prominent singer/songwriter showcases at the national venues The Bitter End, NYC, The Towne Crier in Pawling, NY, and 2009's Pleasantville Music Festival, in Westchester, NY.  Fans have compared the vibe of the tunes from "Old Flames" to the early, rootsy, Sheryl Crow, and the honest storyteller, Carole King. 

Prior to "Old Flames" I released two successful indie pop/rock albums with the quartet Jules & the Family. Our tracks have been played on public, private, and internet radio throughout the US, Europe and Japan. 

All three of my albums have different feels and sounds to them, however, they all share the same storyteller.  Like everyone, I had much to learn over the last decade, and the lyrics on each record reflect some of the changes that one goes through as she progresses through her 20's.  These albums take the listener on the journey I've been on, and hopefully provide the soundtrack to his or her passage.

Discography
2011 Backwoods Jupiter Presents Bob Dylan's Desire
2008 "Old Flames & New Names"
2007 "Border Radio"
2005 "Jules and the Family"
See music page for guest appearance Discography.

So this is growing up. In Julie Corbalis' first solo effort, "Old Flames and New Names," followers of the musician's career will recognize a more mature Jules than the one they first heard sing at Broadway Station in Astoria, Queens, back in September 2001, when the smoke from 9/11 was still stinging our eyes. Those who are new to her music will be left wondering what they missed all those years. Those of us who have had the pleasure of knowing her since back before we became ourselves will hear the growth that comes from her living life to the fullest for the past 7 years. If you don't cry at "Aunt Margaret," the fifth track on the CD, you should check your pulse. "No Good" evokes images of smoky jazz lounges where women in slinky dresses sing atop pianos (think Michelle Pfiefer in "The Fabulous Baker Boys"). "Should've Stayed Away," arguably the best song on the album, is a beautiful country ballad that puts to music all the thoughts we've found ourselves at the bottom of a bottle of Bud, sitting next to some guy we know is just going to break our hearts. Again. The album is a departure from the old Jules and the Family vibe. Gone are the feel-good, poppy tunes like,"We say Nothing" and "The Greek Song." Even "Dolores," a beautiful song on JATF's first album, doesn't come close to the raw emotion on this album. Jules has poured her heart and heartbreak into this album and what results is a soulful collection of songs you'll be nursing your next broken heart to.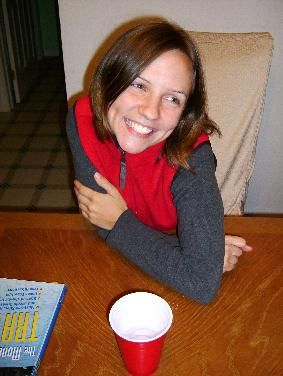 Jules Corbalis started playing music at the age of 15, when she began taking lessons from hometown talent Dennis Voyez, formerly of the Westchester cover band Airmail Jones. Her first gig, at Yorktown High School's "Battle of the Bands" in the early 90s, had her playing third-rhythm guitar for the Metallica classic "Fade to Black". But she wouldn't be in the background for long. Her next gig was a slight setback when she got thrown off the roster for her high school's talent show for demonstrating her rebel spirit and her fierce loyalty to her friends, but a real talent like Jules can't be suppressed for long. After high school, Jules attended Westchester Community College for two years. It was here that she met the local talent that continues to inspire her to this day. At Biancachino's, a coffeehouse in Mohegan Lake, New York, she met songwriters like Marc Von Em, Jason Gisser and Jaime Shields. These people inspired her to write her own music. Unfortunately, her stage fright kept her from opening up and sharing her musical gift with more than the closest of friends. She spent two years watching in agony at local coffee shop as others did what she herself wanted to do. Enter Cynthia Sakofsky. When Jules transferred to Manhattan's New York University, her first roommate, a flutist herself and the child of two working musicians, recognized Jules' talent and urged her to play. Jules started small, playing for the many friends that would drop by to hang out in their dorm room. These friends also immediately recognized Jules' immense talent and put her to work, making her star in their film school projects. Jules' talent and self-confidence grew. She began writing more songs, as well as learning the covers that had inspired her in the first place. Bands like The Beatles, The Rolling Stones, and The Black Crowes were all huge influences, as were solo artists like Sheryl Crow. And she finally did what she had been longing to do as an 18 year old in the coffee shops of Westchester. In May, 2000, she got up in front of a live audience, in a dive bar called Lu Lu's Parlor on Manhattan's West side. Greece is the birthplace of democracy, literature and modern civilization. It's also the birthplace of Jules the Artist. After teaching for a year at Manhattan East, Jules and Cyn went island-hopping in Greece for three weeks. It was Jules' first trip outside the United States and eventually became the inspiration for the constant crowd-pleaser "The Greek Song." It was also where she met Pat Kelly. An Irish musician traveling through Greece, Pat was playing at an outdoor taverna in the old city on the island of Kos. After listening to his set, a mixture of American and British classics, Jules introduced herself. Thanks to his support, combined with some good-natured nudging from the ever-supportive Cyn, Jules broke out her guitar and played for the Europeans on holiday. Jules and Pat spent the rest of the week together, playing gigs all over Kos. Stage-fright was banished and a career was born. Pat and Jules remain close friends and went on tour together in Belgium and the Netherlands in Spring, 2005.
The experience in Greece gave Jules the boost she needed to play stateside. She came home and booked a gig at "The Broadway Station" in Astoria, Queens. One problem: No Band. She returned to her roots, calling up long-time friend, guitar great and musical inspiration Jonathan "JL" Lloyd. "JL" contacted John Madden, a brilliant percussionist, who then got Marc Osborn, multi-talented bassist, keyboardist and producer, on board. The foursome clicked immediately and began work on some of the many songs Jules had written but had yet to share with the public. Jules' was pleased to find out that these three talented musicians were also incredible song-writers. The band's first gig was in September, 2001. It was a stunning success and built a fan base of old friends and first-time listeners. For the past three years, Jules and the Family has continued to work together to create good old-fashioned rock-and-roll. Their songs meld elements of pop, rock, funk and whatever else they feel like playing. The influences are evident. Their songs lead one to think of Janis Joplin, Sheryl Crow , The Rolling Stones. These are songs for real people who have lived real lives. Recently, Jules has started playing solo acoustic gigs in the Greater New York Metropolitan area. Her style is simple; it's just a woman and a guitar. The elements of folk and rock combine to remind you of all the crap relationships you've survived, the great vacations you took that made you the person you are today—in short, these are the songs not only of her life, but in a small part, yours, too. The relateability of these songs keeps her fan base coming back to her gigs again and again. You get the sense when you listen to these songs that this is a woman who has lived hard, loved hard, fallen hard and has picked herself up to do it again, regretting nothing. If you find yourself humming one of her tunes under your breath, don't be surprised. We've all done it, it's cool. Jules and the Family are still rocking out in the New York area. They have just completed their self-titled debut album and hope to release their second in Summer, 2005. By Lindsay Noonan
Would you like gig updates?